"The bright city lights illuminate justice for the heroes who live here."
—Heroes and Heralds Mode description
The Daily Bugle is a Marvel stage in Marvel vs. Capcom 3: Fate of Two Worlds and Ultimate Marvel vs. Capcom 3.
Description
Edit
The fight takes place in a scaffold near the Daily Bugle Building in New York City, where the Daily Bugle is holding a festival. Two reporters in the scaffold take photos of the action. In the background, the parade brings several balloons, including a large one of Spider-Man, Servbot, and Viewtiful Joe. The buildings contain several banners.
After 25 seconds pass, the scaffold starts moving up until the top of the building, and the reporters leave. The parade is now barely visible, a helicopter is flying in the sky with J.J. Jameson inside, and the Spider-Man balloon flies away. The Baxter Building is visible in the distance.
The PlayStation Vita version is less lively due to limitations, the scaffold and the festival cars staying in place and the photographers being absent.
City That Never Sleeps
Edit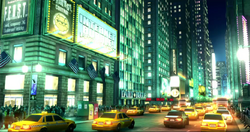 City That Never Sleeps is an alternate version of The Daily Bugle stage introduced in Ultimate Marvel vs. Capcom 3. It takes place at nighttime and the scaffold doesn't move. Many people and taxis gather near the Daily Bugle to watch the fight (presented by an announcer) and a show that will soon start in the neighbor building, showing the text "Tonight at the MVC Music Hall! For the first time ever! Dazzler with Felicia! Opening Act: Hypno-Hustler and the Mercy Killers".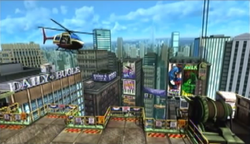 Banners, posters, and others that appear in the stages:
Ad blocker interference detected!
Wikia is a free-to-use site that makes money from advertising. We have a modified experience for viewers using ad blockers

Wikia is not accessible if you've made further modifications. Remove the custom ad blocker rule(s) and the page will load as expected.