Nova
Talk

0
731pages on
this wiki
Nova
Nova

Name

Richard Rider

Gender

Male

Weapon/Power

Superhuman Attributes, Energy Manipulation

Affiliation

Hero

Vitality

900,000

First Appearance

Ultimate Marvel vs. Capcom 3 (2011)

First Appearance in Comic

Nova #1 (Sep,1976)

Voiced By

Troy Baker

Company

Marvel
"Nova... the guy who put the "War" in New Warriors."
—Nova's prematch quote
Nova is a Hero from Marvel comics who has been a member the New Warriors, United Front, Nova Corps and Secret Avengers. He is a new fighter in Ultimate Marvel vs. Capcom 3.
Story
Richard Rider was born in Hempstead, New York. As a teenager, he was chosen at random by the alien Rhomann Dey, last surviving Centurion of the planet Xandar's elite Nova Corps, to inherit his power and succeed him in the rank of Nova Prime following the destruction of his world by the intergalactic pirate, Zorr. Having been mortally wounded in the battle that tore Xandar apart, Dey succeeded in tracking Zorr to Earth but was unable to exact vengeance due to the extent of his injuries. At death's door, Dey had little choice but to transfer his power to an unsuspecting human on the planet below, praying whomever he found will take up his cause and prove worthy of the powers he had given. Rider gained great strength, invulnerability, the power to fly, and a uniform with a sealed life support system, but little instruction on how to use these new powers. Still, he took up the life of a superhero, fighting costumed super villains in New York and gradually learning how to use his new powers.
After a brief career as "Nova, the Human Rocket," he was called into space to serve in the protection of the recently reconstructed planet Xandar, the same world where his great powers originated. Eventually tiring of a life of constant intergalactic war and hoping to rejoin his high school friends, the boy requested to return home to Earth. When he was told he had to relinquish his powers in order to do so, Rider agreed.
For a time, Rider lived a relatively normal life, flipping burgers, and barely making ends meet due to his disrupted education. He spent his time trying to pick up the pieces of the life he had left behind, all the while wishing he could find a way to regain the powers he lost. Unknown to him, during this period, the planet Xandar was destroyed again in an attack by the space pirate Nebula.
Some time later, Richard was kidnapped by the vigilante, Night Thrasher, who reawakened his powers as Nova with a near-death experience. Nova went on to join Night Thrasher's New Warriors and developed a romantic relationship with teammate, Namorita. However, the two eventually had a bitter break-up and Nova had to leave the planet for Nova Corps duties, just in time to avoid involvement and possibly death in the Stamford Conneticut incident which killed everyone on the team except Speedball and launched the Superhuman Registration Act as well as the Superhuman Civil War.
Nova has superhuman strenth, stamina, durability, agility, reflexes, a regenerative healing factor, the ability to fly and generate energy, and can access data through the Xandrian Worldmind.
Personality
Richard's personality in Ultimate Marvel vs Capcom 3 is a combination of his brash, and cocky personality from his early appearances and his serious, determined attitude from post-Annihilation. Cocky, wisecracking, and self-absorbed, Rider is not unlike Hawkeye in terms of personality. He is also very lively, and is a very competent fighter. Also like Hawkeye, he is serious mainly only when really needed, but at heart, he is a good person and a true hero who yearns to help the entire galaxy to the best of his power, and even beyond. He enjoys joking around with friends and potential enemies, one example being that his pre-match quote against Rocket Raccoon has him calling him a reject from Bambi.
Gameplay
"Let's make this quick. I've got a universe to save."
—Nova
Nova is a very straight forward rushdown character, and is unique among other characters with his ability to sacrifice red health to increase the damage of certain attacks. Nova has the fastest air dash in the whole game, this makes him good for air combos and mind games.
Command Normals
Special Attacks
Assist Attacks
Hyper Combos
X-Factor
| X-Factor Boosts | Damage | Speed |
| --- | --- | --- |
| Level 1 | 130% | 110% |
| Level 2 | 150% | 120% |
| Level 3 | 170% | 130% |
Theme Song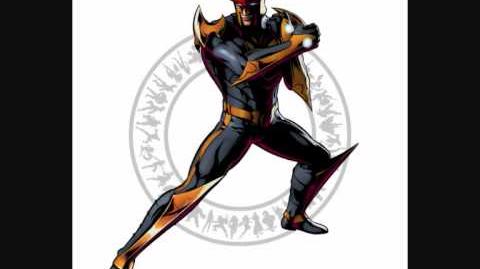 Trailer
Special Quotes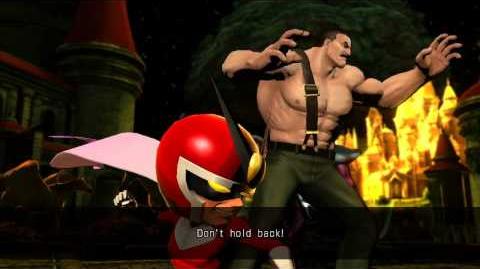 Ending
Spoiler Alert
Nova's ending features him reflecting and cherishing his time in the Nova Corps before he reveals his new team: the Mega Nova Corps. The team itself consists of the classic Mega Man, Proto Man, Roll, Beat and Zero all in Nova Centurion outfits.
Transcript
"Man, sometimes I forget how cool it is to be part of the Nova Corps. Defending the universe against threats like Galactus, coming into contact with other worlds, etc. Which reminds me... What's the only thing better than the Nova Corps? The MEGA Nova Corps!"
—Nova
Trivia
Gallery
Screenshots
Also See
Nova's moves in Ultimate Marvel vs. Capcom 3