Mall Mayhem
is one of the stages in
X-Men vs. Street Fighter
and
Marvel Super Heroes vs. Street Fighter
.
The stage takes place inside a multi-tiered shopping mall. The mall is heavily decorated and there are several banners all over the roof and upper floors, including one for Capcom and another reading "PF II X", a reference to Super Puzzle Fighter II X. On the bottom floor there are two ice cream stands at each side of the screen, and a small number of people looking at the fighters. In the middle there's a man dressed as a pink rabbit holding several balloons.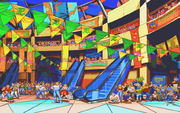 In
Marvel Super Heroes vs. Street Fighter
, the stage was given a major redesign. The palette was changed to a more lively color and the mall is now crowded with a multitude of people looking at the fight, both at the bottom floor and over the upper floors. Most of the banners were redesigned and reference Marvel and Capcom characters such as
Mega Man
,
Spider-Man
,
Deadpool
,
Ghost Rider
,
Captain Commando
and
Arthur
. The shop at the leftmost part of the stage was also changed from saying "New York" to being a Marvel Comics shop.
There are a few cameos on the crowd as well, including Cody and Jessica at the center of the stage, a man in a Mega Man suit among the crowd at the right side and Birdie and the pink rabbit Don from Three Wonders among the people on the upper floors.
Ad blocker interference detected!
Wikia is a free-to-use site that makes money from advertising. We have a modified experience for viewers using ad blockers

Wikia is not accessible if you've made further modifications. Remove the custom ad blocker rule(s) and the page will load as expected.