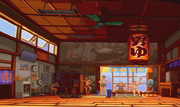 Honda's Bathhouse
is one of the Capcom stages in
Marvel vs. Capcom: Clash of Super Heroes
. This stage takes place in
E. Honda
's favorite
Japanese
bathhouse,
Kapukon Yo
, a recurring stage first seen in
Street Fighter II
.
The stage is set in front of the men's bathroom entrance, with several men wearing towels or in underwear cheering on from the background. The room features basic stuff like a locker area and a large banner on the wall resembling the Japanese paiting on Honda's original stage. This stage features an unique element: if either of the players is struck against the right side of the screen enough times, the wall will break and reveal a second area, doubling the stage's total length.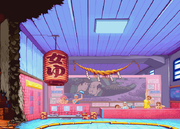 The second area is set inside the women's bathroom. It closely resembles the original stage more than the first half, having a pink marble bathtube, shower stands, a large Japanese painting on the wall and a sumo ring on the floor. Six people can be seen cheering on from the background, including
Sakura
and her friend
Kei
, the former excitedly jumping and cheering on the fighters and the latter looking at her with embarassment.
Ad blocker interference detected!
Wikia is a free-to-use site that makes money from advertising. We have a modified experience for viewers using ad blockers

Wikia is not accessible if you've made further modifications. Remove the custom ad blocker rule(s) and the page will load as expected.