Gameplay
"I would pray now. A lot."
—Ghost Rider's prematch quote
Ghost Rider is primarily a hard-hitter with frightening reach. Using his hellfire-empowered chain, Ghost Rider stands his ground and controls space with his attacks rather than with his mobility; safely poking his foes at a distance, and reeling them in closer for serious damage. His full combos that start from mid-screen do more overall damage than his combos that start from close up. He has no normals or specials that reach full-screen, so it's best to team him with assists that reach full-screen to make him a threat at any range. Ghost Rider has no special mobility whatsoever other than his Spirit of Vengeance hyper which lets him drive around the stage for a short time and has hyper armor. Because of his whip-like attacks, he has often been compared to Omega Red, another character who uses a whip-like apparatus to attack enemies from afar.
Moveset
Assist Attacks
| | Name | Type | Angle | Cross-Over |
| --- | --- | --- | --- | --- |
| α | Chain of Rebuttal | Shot | Front | Hellfire Maelstrom |
| β | Heartless Spire | Shot | Front | Hellfire Maelstrom |
| γ | Hellfire | Shot | Tilt Down | Hellfire Maelstrom |
Command Normals
Special Attacks
Hyper Combos
X-Factor
| X-Factor Boost | Damage | Speed |
| --- | --- | --- |
| Level 1 | 135% | 105% |
| Level 2 | 160% | 110% |
| Level 3 | 185% | 115% |
Theme song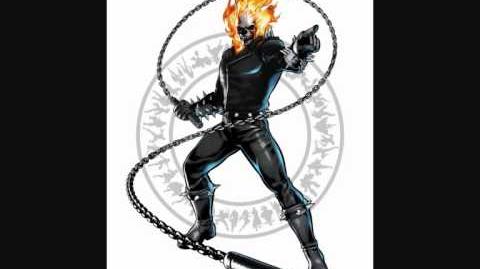 Trailer
Quotes
Default
Intro:
"Now learn why I'm called a Spirit of Vengeance."
"I would pray now. A lot."
"Mephisto can't contain me. What chance do you have?"
Victory
"Be grateful I don't take your soul as a prize."
"Eat my flames, loser."
"Hell hath no fury like a flaming skeleton on a motorcycle."
Chain Attack
Combo w/ Characters
"Together mortals."
"As one."
Too close
"Unhand me."
"You dare touch me."
Character Switch
"Vengeance is mine."
"I mean no highs."
Victory After Battle
"I will feast on your very soul."
"If you value your life, leave."
Enemy nearing Defeat
"Defeat is upon you."
demonic laugh
Done wrong
Self Switched
"I'll be back."
"I'm here."
"Time Burn."
Combos
[Hellfire] - "Hellfire."
[Chaos Bringer] - "To me."
[Hell's Embrace] - "Feel the pain!"
[Conviction Slam] - "You are Guilty!"
[Heartless Spire] - "Burn"
Special Combos
[Hellfire Maelstrom] - "FACE ME!...Stay in the shadows."
[Spirit of Vengeance] - "Johnny Blaze rides again."
[Penance Stare] - "Penance Stare! Look into my eyes...Have a nice death."
Comic Quotes
"One day I'll be free from this curse. One day."
"Sometimes I think the whole world deserves damnation."
"Nothing can stop the Spirit of Vengeance from inflicting pain upon all those who threaten the innocent."
"I am fury itself. Now, taste the fires of Hell."
"You cannot destroy one already beyond death."
"You will have more than just bruises once you recover. My hellfire burned your very soul."
"Try as I might to keep the demon inside at bay... Some days I fail."
Special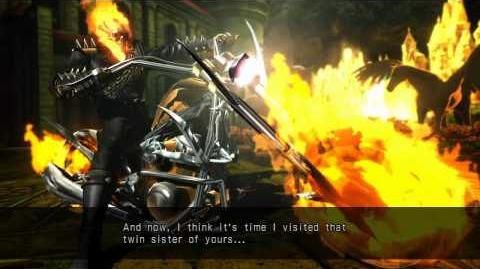 Gallery
Ad blocker interference detected!
Wikia is a free-to-use site that makes money from advertising. We have a modified experience for viewers using ad blockers

Wikia is not accessible if you've made further modifications. Remove the custom ad blocker rule(s) and the page will load as expected.